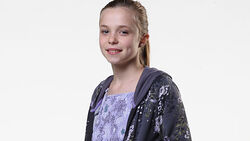 Jessie Alison Tamara Williams, is a 14 year old actress who lives in Horchurch East side of London,Essex. She is most well known for portraying the character Lily Kettle ,the over-protective 10 year old Care Kid living at the Dumping Ground.
Jessie attends a Comprehensive School in Havering named 'Sanders Draper School',who takes in ages 11 - 16. Sanders Draper now shares it's grounds with 'Sutton's Junior & Infant School',just off Sutton's Lane. Jessie's school motto is 'Positive Achievement for all'. Sanders Draper is located in Hornchurch,London Borough Havering,found by Lady Simon in 1937,she named it 'Sutton's Modern Secondary School' but it was not officially opened until 1938 when it became a Scince School, Mr.John McEacherron is now it's Head Teacher. Jessie also has a teacher called 'Miss McDonald.'
Jessie's birthday is the 20th January and she was born in 1999 making her 14 this year. Her birthday party in 2012 (this year) was the 21st January,where she invited all her friends including Mia McKenna - Bruce,Amy - Leigh Hickman,Lauren Mote,Joe Maw and other Members of the Tracy Beaker Returns Cast. Jessie sang Turning Tables by Adele at her birthday party which Lauren Mote filmed,Lauren then posted it on Twitter for all of Jessie's fans to see.
Jessie stars as 11 year old Lily Kettle,the over-protective Care Kid who came to the Dumping Ground with her 2 younger sisters Rosie and Poppy Kettle aged 4 and 6. Lily came to the Dumping Ground after her Mother died of something no Doctor's thought it was possible to cure. Her Father got very upset and drank to make him feel better.The drinking made him angry and used to lash out on Lily sisters who w
ere only a baby and 2 year old at the time. Catitlyn and Steve's neighbours heard the racket and soon found out what was wrong with Steve Kettle. Steve was sent to Court and ended up with a sentence of never seeing his children again. Lily returned with her sister's to 'Elm Tree House' a Care Home in Newcastle. Elm Tr