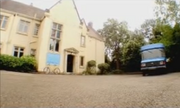 Cliffside is the care home in series 4. Tracy does not live there but she visits it alot.
Careworkers
Socialworkers
Residents
Roxy
Marco
Bouncer
Lol
Hayley (until Episode 10)
Crash
Chantal
Jackie
Layla
Rio
Wolfie (from Episode 19)
Ad blocker interference detected!
Wikia is a free-to-use site that makes money from advertising. We have a modified experience for viewers using ad blockers

Wikia is not accessible if you've made further modifications. Remove the custom ad blocker rule(s) and the page will load as expected.