Carmen's birthday present, a new mobile computer from her mum to make up for missing her birthday, is used for new networking as stated by her. Later, over instant messenger she meets somebody called Joe,who's moved near Elm Tree House. Lily finds out with Elektra's magazines that Joe's profile picture is on 1 of them.
While suspecting that Elektra's the culprit, Tracy steps in to help catch her in the act by trying to meet up with "Joe" by a lake. This concludes with Tracy revealing that his account got blocked and reported to the police. Carmen gets a friend request from Justin Bieber, then chases Frank and Liam believing that they were behind this all along.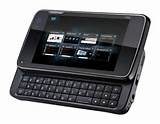 The phone on the right is the phone that Carmen had,the Nokia N900.
Ad blocker interference detected!
Wikia is a free-to-use site that makes money from advertising. We have a modified experience for viewers using ad blockers

Wikia is not accessible if you've made further modifications. Remove the custom ad blocker rule(s) and the page will load as expected.