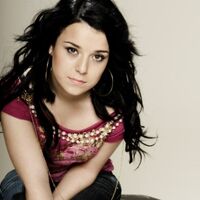 Danielle  "Dani" Harmer (born 8 February 1989) is an English television actress, presenter and singer. Harmer is best known as the title character in the UK television programme The Story of Tracy Beaker/Tracy Beaker Returns and Tracy Beaker Survival Files, a guide of how to survive in the world.
In 2008, Harmer starred as Dani in the CBBC hit series, Dani's House from 2008-2012. This is the first time she had a show named after herself. The second is the Dani's House Spin-Off, 'Dani's Castle' which ran on CBBC from 2013-2015.
In January 2009, Harmer signed herself to a record deal, Universal Decca worth £1.5 million. In May 2009, Harmer announced that her song 'Free' which is the theme song from Dani's House, would be available to purchase from iTunes, on 22nd May 2009. Later that month, Harmer went on CBBC's Newsround to talk about 'Free' and her new music career. She also stated in another interview, her music career was affecting her acting career. Releasing Free also affected filming, 'Dani's House' and 'Tracy Beaker Returns'.
In the summer of 2009, Harmer announced via Twitter and CBBC, her new album, 'Superheroes' would be released on 31 October 2009, with some songs inspired from herself and from Dani's House. However, it never came out. In March 2010, Harmer stated her company were waiting for the 'right time' to release the album. Rumors were spreading, that, Harmer's music company had cancelled the release due to the poor sales of 'Free' from November 2009. In Mid-2012, Harmer finally confirmed that, 'Superheroes' was cancelled and she ha given up on her music career. On 2nd December 2013, previews of her album were posted on YouTube.
Later in 2009, Free was the most downloaded song from iTunes. But on 30 November 2009, it was charted under 100 on the music chart.
She also played Molly Venables in the BBC sitcom After You've Gone. Harmer confirmed on Twitter that she will not appear in the spin off series, The Dumping Ground.
External Links
Ad blocker interference detected!
Wikia is a free-to-use site that makes money from advertising. We have a modified experience for viewers using ad blockers

Wikia is not accessible if you've made further modifications. Remove the custom ad blocker rule(s) and the page will load as expected.