Justine Littlewood is a former resident of Stowey House I, Stowey House II and Elm Tree House I. She is currently working as an estate agent.
She is the fiery tempered, sarcastic rival of Tracy Beaker, desperate to annoy her. Throughout her childhood,  she is moved from being a child in care to the irriatble daughter of Steve Littlewood, who she visits her ocassionally. It is believed she was taken to care because of her mother died and her father, Steve Littlewood, couldn't cope with taking care of her, after this. When she arrived at Stowey House she occupied Tracy Beaker's old room (as she was living at Ted and Julie's at that point) and become best friends with Louise, Tracy's former best friend. After a few years, she decides to give her dad another chance and presumably lives with him, Carrie, his wife, their baby, Billy and her cousin John. As of The Wedding, she is a former character but guest stars in the episode Justine Littlewood Returns. Later on, she becomes a real-esate agent and she asks Mike to give her away at her wedding with her fiancee, now ex-fiancee, Charlie.
She is portrayed by Montanna Thompson.
Biography
Early Life (Backgroud) When she was young,  Justine's mum died, leaving both her and her dad by themseleves.  (assumed as of Tracy Returns to the Dumping Ground). 
For an unknown reason, her father couldn't take of her thus leading to her going to a foster home, however her father still pays her several visits ("Starring Tracy Beaker").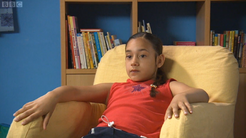 According to
Tracy Beaker
, Justine arrived to the Dumping Ground between the time she was fostered by Ted and Julie and the time that she arrived to The Dumping Ground again. ("
The Story of Tracy Beaker
")
Immediately, she becomes friends with Louise Goven, Tracy's former best friend, while she is fostered by Ted and Julie and then is let occupy Tracy's room because she was being fostered  by Ted and Julie thus resulting in her packaging all of her stuff that she needs in there, including her Mickey Mouse clock that she had been given by her dad.
Childhood (life in care)
The Books
Justine is a secondary character in the Tracy Beaker series. She arrives at the Dumping Ground as the new girl, residing in Tracy's former bedroom, much to Tracy's dismay. She also became friends with Louise Goven, Tracy's former best friend. Behind Justine's back, Tracy sneaks in Justine's room and accidentally breaks her clock whilst snooping around in her room, which Justine was furious about. She was present when a struggling author, Cam Lawson, visited the Dumping Ground as a guest. However, Tracy gets fostered, leaving her at the Dumping Ground. ("The Story of Tracy Beaker").
While Cam fosters Tracy, Justine stays at the Dumping Ground, as mentioned when Tracy says she misses her. ("The Dare Game").
At the auditions, Justine was chosen to play Jacob Marley in the Christmas production.
Television Series
Series One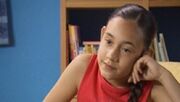 In the TV series, Justine is new in the first series. Because she arrives before Tracy returns, she gets Tracy's old room and she steals her best friend, Louise Goven. She and Tracy once have a dare contest that ends with Tracy eating a worm. She is always determined to dampen Tracy's spirits, but sometimes dampens her own when she doesn't get her own way. Alot of the times when she is going to meet her dad he doesn't turn up.
Series Two
In the second series, she and the other kids try to trick Nathan Jones, the trainee care worker, but only succeed thanks to Tracy. Also, she and Louise make a bedsit after Tracy gives them the idea. Another major episode involving her is when her dad marries his girlfriend, Carrie, and she has to wear a horrible yellow dress. Eventually, the dress is ruined and she goes in her best party clothes. She also had a Tv in her room, from her dad, but tracy starts a campaigne about Elaine letting somebody have a tv in their room.When Louise leaves the care home for her new life, Justine is incredibly depressed and Tracy is told to cheer her up.
Series Three

In the third series, Justine actually joins the alliance, "If Tracy goes, we all go" when Shelley Appleton plans on moving her to another care home. She becomes startled when Carrie reveals that she and her dad are going to have a baby but eventually warms up to the idea. Eventually, her dad and Carrie tell her that they want her to move back in and she accepts. The series finale is her leaving party.
For some reason, Justine is still living at the dumping ground in the movie. She is the first person to see Tracy's mum and she starts to become pleased when Tracy warms up to her mum. However, when Tracy runs away to find her, she takes Justine's mobile, which makes Justine determined to find her. She accidentally reveals her location to Cam who sets off in the dumping ground bus. Justine goes with her, wanting her phone. At the end she helps with Tracy's birthday party.
Series Four
She was only seen once in the fourth series.
Series Five
Justine is perhaps the main protagonist in the fifth series, where it was revealed that Carrie gave birth to a little boy called Billy. After having to move out of her own room for her cousin John, she angrily moves back to the dumping ground, only to find that she has to share her room with new arrival Rebecca Chalmers. She instantly develops a rivalry with her and they are always arguing. At first she refuses to see her dad but at Guest Day gets used to her cousin after he eats some nuts. In the final episode she attends Cam's wedding and later tells Tracy that she's giving her dad another go.[1]
Tracy Beaker Returns
Series Three
Justine appears one TRB third series episode. She also appears in three of the books and the movie. She is mentioned in Tracy Beaker Returns and vists Tracy in Series 3 where she is an award winning estate agent and is engaged to be married to her fiance Charlie. This didn't happen because he turned out to be a con artist (in on the act with his mother) who was only going to marry her for her money. She also formed a bond with Carmen.
Relationships
Main article: Justine Littlewood/Relationships