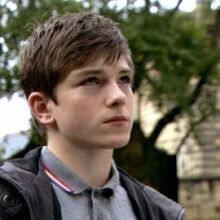 Liam O'Donovan (played by actor Richard Wisker), is a 15 year old boy who used to live at Elm Tree House. He has a cheeky personality and likes doing practical jokes. His best friend is Frank Matthews. He is the first of the Dumping Ground kids that Tracy Beaker saw after she left. She first met him in a Police Station, as he always seems to find trouble!
Liam got along with everybody but Elektra. Liam also clashed with Johnny every now and again and took an immediate dislike to Lizanne when she arrived. The kids looked up to him as their leader before he went to live with his brother Jack.
Liam would later reappear in season 2 of The Dumping Ground during a series of webisodes entitled Liam's Story. We learn that Liam is training to become a plumber, but has aspirations of being a music talent manager. Unfortunately he does this at the expense of repeatedly failing his training and letting down Jack. He eventually meets Frank again in the season 2 finale where Frank helps him resolves his differences with his brother. At the end of the episode, Liam and Frank decide that they will become room mates, once both of them have completed their studies.
References