Louise Goven (played by Chelsie Padley) is a character who appears in both the television and book versions of "The Story of Tracy Beaker".She is a bit girly and is mentioned by Tracy in the books that she (Tracy) would love to look a bit like her.
Bio in the books
Louise is not a very major character in the books, and she is mainly on Justine's side when she is fighting with Tracy. However its mentioned that Louise was best friends with Tracy some stage and decided to be friends with Justine, who she didn't even like at first. She played The Ghost Of Christmas Past in the school play. It is mentioned that her mum and Nan died.
Bio in the television series
Before Tracy was fostered by a couple called Ted and Julie, she was Louise's best friend. However, Tracy never contacted Louise whilst she was away, so when Justine Littlewood arrived at the Dumping Ground, she became her new best friend. She got jelous though when she came back to the DG.
When Tracy returned to the Dumping Ground, Louise did not speak to her much, but she was made to act like a bridge be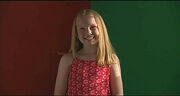 tween Tracy and Justine, who became arch enemies. Louise did not have many storylines in the first series, but she did have a few, including the time that she was made Child of the Week with Tracy and the time that she, Tracy and Justine attempted to go to a sleepover together. Justine is sometimes horrible to Louise on many occasions, including when she is made to help paint Justine's room and is made to pay to watch Justine's new TV. In the series finale, Louise allows Tracy to paint her portrait on the life sized mural of the DG kids next to her and she says a happy goodbye to Tracy when she is fostered by
Cam Lawson
.