Home
Talk

4
272pages on
this wiki




Welcome

Tracy Beaker Wiki is a fan created encyclopaedia which aims to be able to provide information on every single aspect of the Tracy beaker franchise by Jacqueline Wilson. This site will cover the Book series, the three CBBC television series as well as their episodes, characters locations etc. This site is produced by the fans for the fans meaning that any visitor is free to add what they know about the series to this wikis pages.
Read the books that made it all begin.

Watch the television shows, on CBBC.

The residents of Elm Tree House.

Find out more about the carehomes and beyond.

The cast members of all the shows.

The people behind the scenes.

Enter the Universe. You decide what happens!

New to the Wiki? Find out what it is about.
Did you know?
...Dani Harmer left Tracy Beaker Returns to begin her career in Dani's House?
...Daniel Pearson played Luke Salter in Emmerdale ?
...The character Faith's name suits her absolute faith to try her best?
...Dani Harmer played two roles at the same time on the same television channel?
...Connor Byrne was an ballet dancer before acting?
...Jessica Revell has so far only acted in TBR and TDG?
...Kay Purcell has appeared on Emmerdale as two different people?
...Tracy Beaker is not Jacqueline Wilson's favourite character she has invented but the most popular?
...There was a play made of the Tracy Beaker book, the Dare Game?
...Jacqueline Wilson thought of the surname of Tracy Beaker when she was in the bath and spotted a beaker? (imagine if she'd got her toe stuck in the tap, it might have been 'Tracy Taptoe' instead...)
...Mia McKenna-Bruce is 15 years old?
...Amy-Leigh Hickman has a sister called Abby Hickman?
...Kia Pegg is 11 years old?
...The character Gus suffers from autism?
...The character Frank Matthews and his portrayer suffers from Cerebral Palsy?
...Dani Harmer had failing GCSE results?
...Nick Sharratt illustrates TSOTB books and show, TBR and TDG
...Dani Harmer has a brother and sister?
Featured...
May 2013
Vote for Featured Articles
Featured Character
Elektra Perkins, a sixteen-year old resident of Elm Tree House, is a fiery-tempered, passionate girl and, with brown locks and blue highlights, tends to be a rebel. Prior to her arrival at Elm Tree House, she is shown to easily imdiate and or bully people for what she thinks to right. Previously, she lived with her controlling mother and father and her soppy older sister, named Messila Perkins, who she later reconiles with, following her engagement. Currently, she shares a bedroom with her assumed enemy, but later on best friend, Faith Davis. Her family are: her mother, father and sister. She is portrayed by Jessica Revel. Read more...





Featured Cast Member
Jessie Alison Tamara Williams is an fourteen-year old British actress known mostly for appearing on the CBBC's television series', Tracy Beaker Returns and The Dumping Ground. She was born 20th January 1999. Jessie attends a Comprehensive School in Havering named 'Sanders Draper School',who takes in ages 11 - 16. Sanders Draper now shares it's grounds with 'Sutton's Junior & Infant School',just off Sutton's Lane. She starred in the show, The Hour for one episode. She has also starred in The Tracy Beaker Survival Files, as a voice actor. Her star sign is Aquarius.

Read more...



Featured Guest Star

Holly Quin-Ankrah, born in 1987 is British actress, who began her career as a teenager, playing Karen Young on CBBC, the long-running drama, Grange Hill. She is also known for her lead role on the talent show drama Rock Rivals and a regular role as Cheryl Gray on Coronation Street between 2010 and 2011. Also, she plays Shannay, Lily's dad's heavily pregnant girlfriend in The Dumping Ground Holly Quin-Ankrah was born in 1987 and is originally from Warrington, Cheshire. She did not receive any formal acting training, having started filming as Karen Young on the CBBC drama Grange Hill as a teenager. Following Grange Hill, Quin-Ankrah played a lead role in the 2008 ITV talent show drama Rock Rivals as "contestant" Bethany Hopkins. The character was loosely based on X-Factor series three winner Leona Lewis: Quin-Ankrah also took inspiration from former Big Brother contestant, Nikki Graham in her characterisation of Bethany.Read more...



Featured Crew Member
Elly Brewer has been the series story consultant since the Dumping Ground episode, Home Alone:Freedom and Liberty in DG and has written several episodes of The Story of Tracy Beaker. She has been nominated for: BAFA AWARDS in 2011 and 2012 and won a Best Chidren's Drama, which is a RTS Televison Award and Best Drama:North East. She has written for several other CBBC's television series' such as: Shaun the Sheep and M.I High.


Read more...



Featured Episode
Dreamland is the 28-minute 8th episode of The Dumping Ground (Series 1) and the 8th episode overall. When Johnny begins talking to Mike about athletics, Rick's father rings the door disguised as the boiler-man. Meanwhile, Gina lets her mother stay at the house. Tee decides that she will meet with Gina's mother and they play board games. Rick's father takes her out where he meets Frank with his girlfriend, Jade. At the end, Gina decides to her take her mum to a home and then Rick's father to stop pursing him.Read more...

Featured Pairing
Elektra and Johnny is the platonic relationship between the two teenagers in foster care, Elektra Perkins and Johnny Taylor. The two of them met in Elektra, when Elektra, the new girl at Elm Tree House makes everybody join her club where they are forced to do unreasonable dares. Electra and Johnny appear to loathe each other but sometimes they get along, as evident in Scary Beasts when they both end up trying to find a snake. Some think they may have crushes on each other.
Coming Soon?
<center>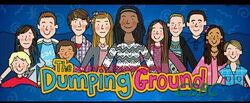 Series 2
The Dumping Ground is approaching its second series, after a first series of thirteen episodes, and it is airing in 2014. It was renewed just after the two series finales. Did you know Connor Byrne, who has played Mike for eleven years will not return for a second series? Soon, you will find you more about Johnny and Harry's background.
Polls
Did you like series 2 of The Dumping Ground?
News
Help
If you need some help navigating the wiki talk to an admin about the situation because they are guaranteed to help. Click here to write a new article.